The LTA-8 test project was run in two phases in the spring and autumn of 1968 with Grumman's test version of the Lunar Module (Lunar Module Test Article 8) sitting inside a huge vacuum chamber to replicate as closely as possible the conditions the vehicle would be exposed to in space.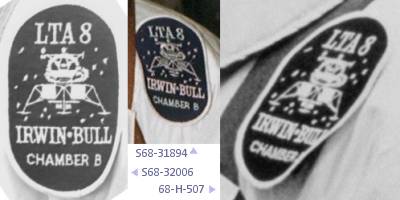 The embroidered patch shown on the right was created for the original prime crew of Jim Irwin and John Bull.
In fact before the tests started Bull developed a severe sinus problem and had to be replaced by his backup, Grumman consulting pilot Gerry Gibbons.
Jim Irwin and Gerry Gibbons were the crew for three 12 hours tests run on May 27, May 29 and June 1, 1968. Glen Kinglsey (another Grumman consulting pilot) and Joe Gagliano (of the MSC Flight Crew Support Division) were the crew of a 10 hour crewed test performed on May 31. During the second series of crewed tests in October and November 1968, Kinglsey and Irwin crewed the first test, Gibbons and Kingsley the second and third tests and Irwin and Gibbons the fourth.
Irwin and Gibbons wore the original embroidered LTA-8 patch on their space suits for the photos shown above which taken prior to some of the tests, although since this was an embroidered patch rather than betacloth it had to be removed for safety purposes prior to the tests themselves.
As the original LTA-8 patches were apparently produced in extremely small numbers it's probably not surprising that virtually all the patches seen on the market are replicas. Presumably the absence of high resolution photos of the original patches when the first of these replicas was produced explains why the details of most of these - in particular the pattern of stars and the colors - are not particularly accurate. Subsequent replicas seem to have copied their designs from the first replica rather than from any original source photos, making the three identified replica varieties produced prior to my own version being extremely similar in appearance to each other.