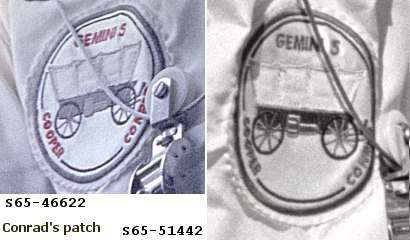 Gemini 5 was the first mission to have an embroidered patch. Famously, the motto "8 days or bust" embroidered on the side of the wagon in the design was deemed unacceptable by NASA and had to be covered over on the crew's patches with plain cloth.
It seems that the two patches worn by Cooper and Conrad were more-or-less hand produced, with subtle differences in the two designs being visible e.g. the running board to the right of the barrel on the side of the wagon seems to be a little lower on Cooper's patch than Conrad's.
The closeup images on the right show the two patches in some detail.