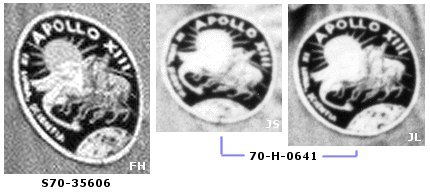 When they stepped out of the recovery helicopter onto the deck of the U.S.S. Iwo Jima the crew were wearing blue jumpsuits with an embroidered mission patch attached.
The patches can be seen quite distinctly in these photos.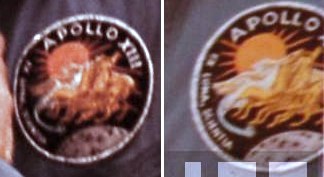 The images on the right (detail from color photos of the crew on board the Iwo Jima from the LIFE magazine archives) clearly show the embroidered patch.
The same design is visible on the jump suits of the crew in all photos taken on the Iwo Jima and again in photos of the crew receiving medals from President Nixon on their arrival in Hawaii.
This patch is the one recognized today as the Apollo 13 Crew Patch.
It seems that this patch was manufactured by AB Emblem, since examples have been seen in original KSC packaging and also seen in some sets of vintage AB patches. Since the more common AB design exists in bare back form this implies that AB changed their design sometime before the switch to coated backs in the late 70s. In fact, given the relative scarcity of this design I would assume that the change was made not long after the flight itself. Why AB Emblem should have changed the design of their Apollo 13 patch and no other is a mystery.
In any case, despite the fact that the patch as apprently available commercially to at least some extent it is still scarce enough to qualify as a Crew Patch.